Gems of Southeast Europe River Cruise from $2,449
WHAT'S INCLUDED
7 nights luxury accommodation in an outside stateroom
All on board dining in a variety of venues
Captain's Welcome Cocktail & Dinner
Unlimited fine wine, beer & soft drinks with lunch & dinner
Unlimited sparkling wine & fresh juice with breakfast
Tapas, sandwiches, snacks & refreshments served daily
Immersive tours in every destination
Personalized service from a highly trained Cruise Manager during both cruise and land programs
Daily entertainment including cultural performances
Gems of southeast europe river cruise
Spend 7 nights in luxury accommodations as you explore the Danube River. Begin your vacation in Budapest, and then traverse the dramatic narrow gorge known as the Iron Gates, then cruise along the Romanian-Bulgarian border. Visit Bulgaria, Croatia, Hungary, Romania, and Serbia. Explore Vidin, Belogradchik and Veliko Tarnovo before disembarking your cruise in Romania. Enjoy all on-board meals, unlimited fine wines, immersive tours and much more!
call a travel team agent at 1-800-788-0829 today for details!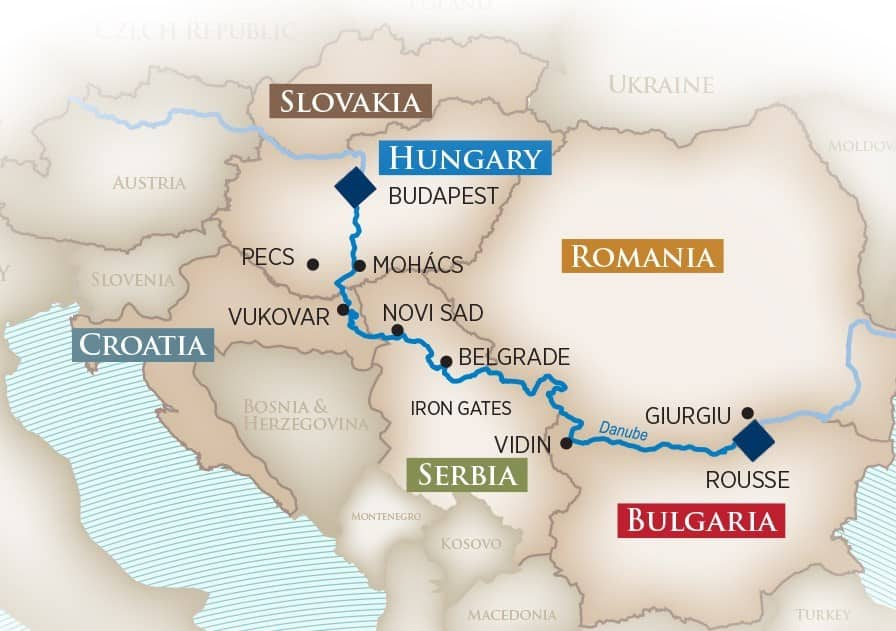 DAY 1    Budapest           
EMBARKATION
Welcome Dinner
Illuminations Cruise
Embark upon your river cruise ship, docked in the city center. This evening, meet your fellow passengers at the Welcome Dinner as the ship cruises past Budapest's illuminated riverfront. (D)
DAY 2    Mohacs              
Pecs excursion
Villany wine tasting
Arrive in Mohacs around breakfast time and depart for your excursion to Pécs. Founded more than 2,000 years ago by the Romans, the city was an important cultural base during many centuries of Ottoman rule. You will see St. Peter's Basilica, the city's main Catholic cathedral, as well as either a mosque that has been converted to a church or the restored synagogue, before returning to the ship in Mohács. After lunch, enjoy a wine-tasting excursion to sample aromatic, spicy wines from the vineyards of Villány. (B,L,D)
DAY 3    Vukovar             
Yugoslav Civil War tour
Ilok
OR Croatian wine tasting
Novi Sad
Walking tour
Visit Petrovaradin Fortress
This morning, enjoy a Yugoslav Civil War tour of Vukovar that will show you the Ovcara Memorial and Cemetery, the monumental cross that serves as a memorial to those who lost their lives during Croatia's struggle for independence. Alternatively, choose to take a wine tasting excursion to Ilok instead. Enjoy lunch on board as you cruise to Novi Sad, Serbia, one of Europe's greatest historical treasures. After a walking tour of the city, you will later in the evening see the Petrovaradin fortress, a mighty stronghold no enemy has ever breached and that is now home to a hotel, museum and artists' studios. (B,L,D)
DAY 4    Belgrade             
City tour
Tito's Memorial tour
OR Quburich Brandy tasting
OR Belgrade bike tour
Wake up in Belgrade, the capital of Serbia, and enjoy a panoramic tour of the city, that includes visits to Kalemegdan Fortress and the Serbian Orthodox Temple of St. Sava. This afternoon you will have your choice of one of three excursions. Your first option is a visit to the mausoleum of Marshal Josip Broz Tito, a beloved figure who was the leader of the Yugoslav Partisans during the Second World War and became the first President of Yugoslavia. Your second option is a tasting of Serbian plum brandy and local snacks at the Quburich Distillery. Your third option is a guided bike tour through Belgrade around Ada Ciganlija Island. (B,L,D)
DAY 5    Iron Gates          
Full day cruising
Today, take a full day of cruising through one of Europe's most awe-inspiring natural wonders, the Iron Gates. Here the Danube narrows as it winds through a series of magnificent gorges between Serbia and Romania. The banks of the river along this natural border are lined with sheer-faced rocks that stretch high overhead, a sight that will be an unforgettable highlight of your adventure. (B,L,D)
DAY 6    Vidin    
Belogradchik excursion and
Baba Vida Fortress
OR Banitsa pastry & yogurt tasting
OR Vidin bike tour
Your time in Vidin begins with a visit to Belogradchik, a beautifully restored castle located in a stunning landscape of unusual rock formations, as well as Vidin Castle. Afterwards, you will visit Baba Vida Fortress, the only entirely preserved medieval castle in the country, where you will be treated to a fascinating historical re-enactment. You may also opt instead for a Banitsa pastry and yogurt tasting, or a guided bike tour on which you will see sights like the Ottoman post office and visit the synagogue. Afterwards, you will have your choice of one of three excursions. The ship departs early afternoon. (B,L,D)
DAY 7    Giurgiu 
Veliko Tarnovo excursion
OR Ivanovo Rock-Hewn Churches hike
Today, enjoy a visit to the ancient capital of Bulgaria, Veliko Turnavo. Here you will tour Tsarevets Hill, the old citadel of the city. You will see the old fortress walls, the Royal Palaces and the Patriarchal church, and the Baldwin's Tower. Or, you may choose to hike to the Rock-Hewn Churches of Ivanovo, a group of monolithic churches, chapels and monasteries built into the side of a mountain. Return to the ship afterward and enjoy a free evening. (B,L,D)
DAY 8    Giurgiu 
DISEMBARKATION
Disembark the ship in Giurgiu. (B)
Pricing & Departures
All prices below are per person based on double occupancy
Additional travel dates are available, call a Travel Team Agent at 1-800-788-0829 for details.
Or, call 1.800.788.0829 to speak with one of our travel experts.
Notes:
Land & Cruise only package (ask travel agent for airfare)
Prices based on availability & may be subject to change
All airline taxes, fuel surcharges & fees are included
Prices in US dollars unless otherwise noted
We have limited space on this package and it is subject to availability and prior sale
All package prices are per person based on double occupancy unless otherwise noted
Prices reflect cash discount
Due to constantly changing policies to baggage restrictions, please check with your airline directly for latest updates and restrictions
Information, including prices are subject to change without notice
Restrictions and change and/or cancel penalties apply
UBI-600-307-872-WA